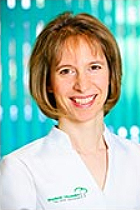 Fiona Millen
Practice Principal
Orthodontist
Fiona has been the practice principal since 2004, having joined the practice in 2000. She studied dentistry in Bristol, qualifying as a dental surgeon in 1988 and going on to work in general dental practice for five years before deciding to specialise in orthodontics.
She attained the Fellow in Dental Surgery of the Royal College of Surgeons in 1995 and then went on to train in orthodontics at Guy's hospital, gaining both her Masters in Orthodontics and the Membership in Orthodontics from the Royal College of Surgeons in 2000.
Fiona loves her job and always strives to achieve the best outcome for everyone: 'Transforming smiles is very satisfying and it is wonderful to share peoples' delight at their new look'.
Fiona has a special interest in lingual orthodontics and she was one of the first orthodontists to study for a formal UK university qualification in this treatment methodology. With this additional expertise Fiona can offer patients the full range of modern orthodontic solutions.