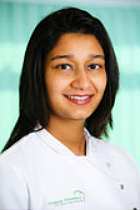 Sonal Dodhia
Dentist with Special Interest in Orthodontics
Sonal graduated as a dentist from the University of Cardiff College of Dentistry in 2000. She worked in general dental practice for six years before committing full-time to her true dental passion – orthodontics.
Sonal is very enthusiastic about orthodontics and what it can do for our patients. She says "I have seen it work its magic on children, enabling them to come out of their shells with the biggest smiles ever! This gives me immense pleasure and job satisfaction."
After completing a postgraduate course at the University of Warwick, Sonal obtained her Masters degree in Orthodontics in 2010. She has been granted the title of Associate Clinical Teacher in the Institute of Clinical Education, Warwick Medical School for the period April 2011 to March 2014.